moving better improves your overall health and physical goals.
Imagine having more flexibility, stability, and strength, while decreasing aches or tightness in your body. When you understand authentic human movement and how to apply tools that will help you to move better, you will move more often. That's the ultimate goal.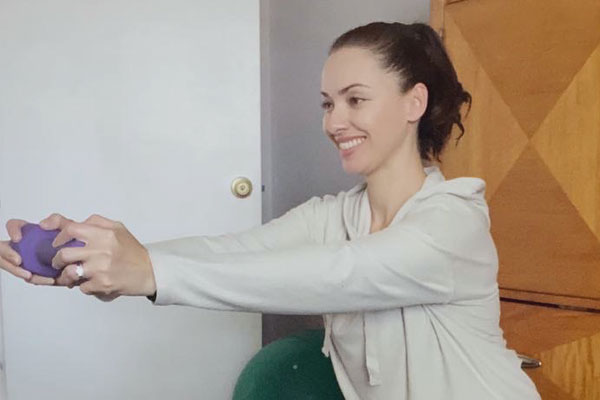 WHAT IS FUNCTIONAL MOVEMENT?
Your body was made to move—to dance, jump for joy, and scoop your kid up into a bear hug. Our bodies are naturally designed to perform what has been categorized as the "7 Functional Movement Patterns" which are; squat, lunge, pull, push, hinge, rotate, and step. Our modern dysfunctions are a product of our isolated and incomplete approaches to exercise that have caused injuries or potential for injuries, improper daily repetitive movements, jobs and careers that keep us seated and glued to a screen most hours of the day, and our lack of activity and sedentary lifestyles. Over time, these dysfunctions can cause pain or potential for pain and/or injury resulting in a more inactive and sedentary lifestyle due to pain or fear that we will cause more pain or further injury. The solution, however, isn't to move less but to Move Better.
About the MOVE BETTER course
Finally, an effective way to move
better and confidently.
If you're seeking a course that will help you assess your muscular imbalances, poor movement patterns, pain, or restriction with movement, and give you the tools and techniques that will help address those issues so that you can move better through life – then this course is for you!
The Move Better Course uses a scientific approach to human biomechanics and applies the principles of Functional Movement to help you connect your mind and body. It will help you better understand how your body works as a unit, as well as how muscular imbalances in strength, immobility, or weaknesses could be affecting you in daily life. 
If you're looking to improve movement and daily activities, have more flexibility, stability, or strength, possibly decrease or eliminate pain, aches, or tightness, decrease the potential for future injury or re-injury, or you're just curious if you have any imbalances that could be impacting your current activities- then the Move Better course is just what you need. No matter what activity level you have, this program is designed to help you assess where you are currently and will offer you the tools and techniques you need to improve so that you can achieve your health and physical goals. 
Course includes:
3 classes for the Move Better course
2 hatha yoga classes
2 mantra & meditation sessions
A spiritual retreat experience
General Retreat Schedule:
Day 1
3:00 pm - 6:00 pm: Check-in
6:30 pm: Mantra & Meditation, session 1
7:00 pm: Dinner
10:00 pm: Lights off
Day 2
7:00 am: Hatha Yoga, session 1
8:00 am: Breakfast
9:00 am: Move Better, class 1
12:30 pm Lunch
2:00 pm: Move Better, class 2
3:30 pm: Chai Tea break
6:30 pm: Mantras & Meditation, session 2
7:00 pm: Dinner
10:00 pm: Lights off
Day 3
7:00 am: Hatha Yoga, session 2
8:00 am: Breakfast
9:00 am: Move Better, class 3
12:00 pm: Check-out
12:30 pm: Lunch (Not included. Can be added for $10)
Course FAQ:
Who teaches the course?
Andree Hafley is a fitness expert for over 13 years and has trained and worked with many people through all stages of life: teens, college students, moms, menopausal, and active seniors. Her expertise is in Functional Movement and helping clients reach goals of mobility, strength, endurance, weight loss, sports or event-specific training, and more.
Andree became a Certified Prenatal and Postnatal Coach in 2017 because of her personal experience going through pregnancy, postpartum, and cesarean recovery. She was shocked at the lack of Perinatal support, guidance, and reliable resources in the fitness industry. Not to mention all the conflicting and confusing information online. She enjoys specializing in this population and helping moms navigate such an important part of their lives.
It is Andree's passion and mission to help women and men move better, feel better, and be confident, strong, and healthy.
Is this course for beginners?
Yes, this course can benefit everyone regardless of any level of experience.
Who is this course for?
Anyone seeking to be more active, healthier, and move without pain.
What do I need to bring for the course?
Bring a notebook and a couple of pens to take notes for class and to reflect.
When is this course offered? Can I attend the course if it's not available on the dates I need?
Check the schedule. We do not offer the exclusive experience for this course.
$295 Tuition + Accommodations
Schedule and book your Move Better Retreat today.
Give yourself the time, space and perfect place to get away and reconnect with yourself.
Three classes of health/body theory and practice to help you get over that initial hump and headed toward healthy, pain-reducing exercise habits.
Learn how they apply to everyday life and how you can use them to identify your muscle imbalances, weaknesses, and pain.
Discover how your breathing significantly impacts chronic pain and the way you move and function everyday
Have a baseline to work from and will be able to re-assess yourself at the end of the workshop and in the future
Identify improper movement patterns and release dysfunctional musculoskeletal trigger points so that your body can move in proper range of motion.
Stabilizing muscles around the abdomen, pelvis, and back – together referred to as the body's "core." You will learn about the importance of stability and how to build a strong foundation.
Stretches, yoga, exercises, self-massage and myofascial techniques to release discomfort.
Mind-body movement strategies that can help put the nervous system at ease, while preparing the body to move in new, optimal, and challenging ways.
Use the arrows to find availability for your program(s). If the course is not offered on your preferred dates, consider signing up for the Exclusive One-on-One upgrade.
Wake up to a fresh start with traditional hatha yoga. The yoga class will help you improve your strength, flexibility, and balance. Begin your day grounded and in harmony giving your body, mind, and soul some love.
Bring your day to a close by chanting ancient mantras. Mantras are divine sounds that help you create positive and healing energy for yourself and others. This energy helps to calm your body and mind, and it can help you connect with your soul.
After mantra chanting, enjoy a guided meditation and silence to merge with yourself at the deepest level. A few minutes of meditation can bring stillness, joy, and peace to your soul benefitting your wellbeing, health, and spiritual growth.
Your choice of accommodations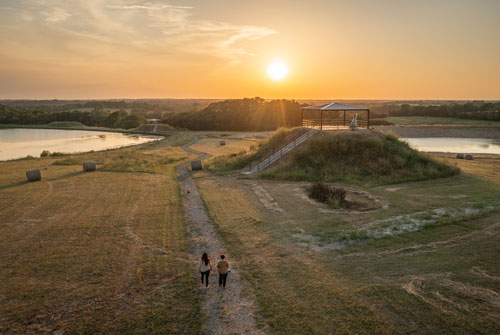 Connect to yourself through nature's beauty and energy. Enjoy the peace and quiet, rolling hills, sunsets, open skies, moonlit nights, meditate on the grass, and walk the trails. Tune out the world and tune in.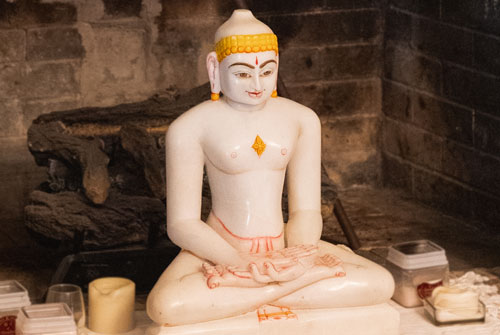 Be surrounded by monks, nuns, and ascetics in training in a peaceful, quiet, and positively energized atmosphere. Learn ancient and universal spiritual teachings and techniques and how to apply them to modern-day living.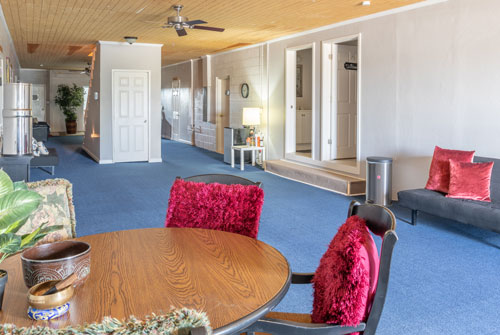 Enjoy the relaxing environment of warmth and coziness through simple, clean, and comfortable rooms and facilities. An ashram is a place of spiritual learning and higher thinking — not a resort, hotel, or spa.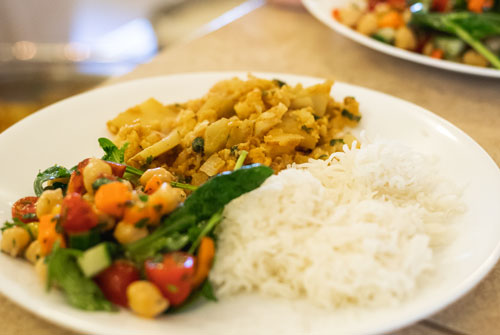 Dive into delicious, simple, healthy vegetarian meals from a multitude of cultures. We often serve Indian, Asian, Italian, Mexican and other tasty dishes.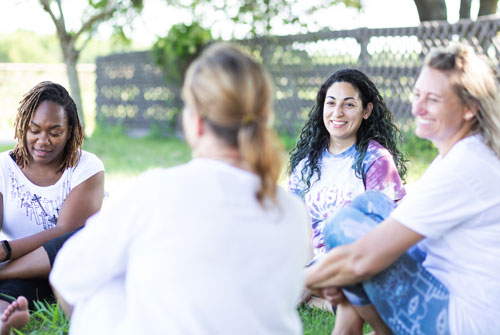 Feel free to be and express your true self in a safe, non-judgmental, respectful, and welcoming place. Meet others who are also on their spiritual journey of transformation and self-discovery. New soul friends await.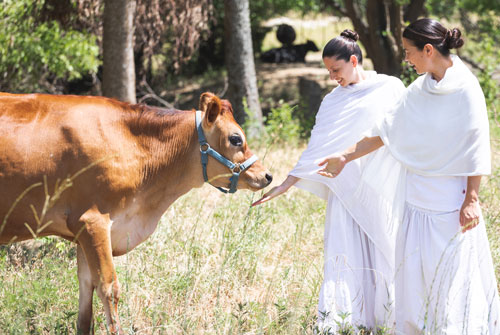 Attending our courses and retreats automatically supports our efforts to provide education at our children's school in India, support survivors of human trafficking, and provide a sanctuary for our cows among other causes.