life can be better when you have balance and energy.
Imagine being courageous, confident, free, empowered, balanced and able to trust and express yourself fully. By being here, it shows you are truly determined and inspired to grow spiritually and make a difference in this world. You are ready, and the chakras can be your gateway!
The chakras are seven energy centers in your body that affect your physical, emotional, mental and spiritual well-being. When you begin to work on your chakras, your energy begins to flow upwards. Many people's chakras are not balanced. They are often blocked, overactive or inactive, resulting in confusion, depression, imbalances and low energy. By awakening the chakras through special techniques such as activation sounds, breathing techniques, yoga postures and other methods, the energy begins to move in the right direction bringing you positivity, peace, clarity, high energy, balance and success.
About the Chakra Awakening Course
Finally, an effective way to activate your chakras.
Our Chakra Awakening retreat is an energy-changing course developed by Acharya Shree Yogeesh to help you activate your chakras, grow spiritually, and heal. This retreat is perfect for beginners and advanced practitioners of chakra work because it is taught in an easy-to-understand and practical way. Although comprehensive, it is simple and easy too. This course contains ancient teachings and techniques that are not taught elsewhere. These lost and recovered techniques include special mantras and divine activation sounds. The chakra system is a tool to help you grow spiritually on your path and with the right guidance, you can begin to see a lasting transformation. Our all-in-one chakra program will provide you with the necessary techniques to not only activate your chakras during your retreat but to also continue your practices at home. Build a strong foundation through the right teachings, techniques, guidance, and tools so that you can activate, balance, and unblock your chakras with success.
Course includes:
3 classes for the Chakra Awakening course
2 hatha yoga classes
2 mantra & meditation sessions
A spiritual retreat experience
General Retreat Schedule:
Day 1
3:00 pm - 6:00 pm: Check-in
6:30 pm: Mantra & Meditation, session 1
7:00 pm: Dinner
10:00 pm: Lights off
Day 2
7:00 am: Hatha Yoga, session 1
8:00 am: Breakfast
9:00 am: Chakra Awakening, class 1
12:30 pm Lunch
2:00 pm: Chakra Awakening, class 2
3:30 pm: Chai Tea break
6:30 pm: Mantras & Meditation, session 2
7:00 pm: Dinner
10:00 pm: Lights off
Day 3
7:00 am: Hatha Yoga, session 2
8:00 am: Breakfast
9:00 am: Chakra Awakening, class 3
12:00 pm: Check-out
12:30 pm: Lunch (Not included. Can be added for $10)
Course FAQ:
Is this course for beginners?
Yes, this course can benefit everyone regardless of any level of experience.
Who is this course for?
Anyone seeking to balance and activate their chakras and energy centers.
What do I need to bring for the course?
Bring a notebook and a couple of pens to take notes for class and to reflect.
When is this course offered? Can I attend the course if it's not available on the dates I need?
Check the schedule. You can opt to do an exclusive experience and can come any time for a one-on-one experience so as long as the teacher is available.
$395 Tuition + Accommodations
Schedule and book your Chakra Awakening Retreat today.
Give yourself the time, space and perfect place to get away and reconnect with yourself.
In three classes you will learn a detailed overview of the chakras, states, symptoms, and techniques to help awaken them.
Identify the state of each one of your chakras to determine if they are balanced, blocked, or over-active.
Obtain special and unique techniques to help activate or balance your chakras, such as mudras, color therapy, activation sounds and more.
Our chakra awakening techniques are based on the original system as taught by enlightened master Parshvanath (2900 BC) who discovered and introduced the chakra system.
You'll learn special sounds, that go beyond traditional sound activation, to help you awaken and activate and balance your chakras safely and quickly.
Leave with easy-to-follow tools, techniques and practices for when you return home, this way you can continue to work on your chakras with confidence.
Use the arrows to find availability for your program(s). If the course is not offered on your preferred dates, consider signing up for the Exclusive One-on-One upgrade.
Wake up to a fresh start with traditional hatha yoga. The yoga class will help you improve your strength, flexibility, and balance. Begin your day grounded and in harmony giving your body, mind, and soul some love.
Bring your day to a close by chanting ancient mantras. Mantras are divine sounds that help you create positive and healing energy for yourself and others. This energy helps to calm your body and mind, and it can help you connect with your soul.
After mantra chanting, enjoy a guided meditation and silence to merge with yourself at the deepest level. A few minutes of meditation can bring stillness, joy, and peace to your soul benefitting your wellbeing, health, and spiritual growth.
Your choice of accommodations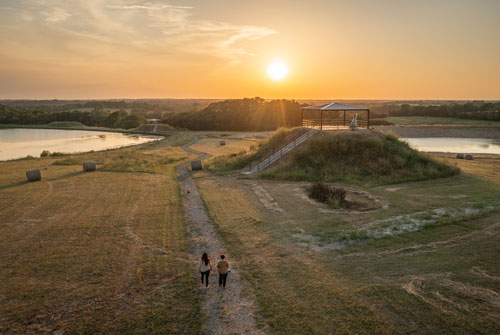 Connect to yourself through nature's beauty and energy. Enjoy the peace and quiet, rolling hills, sunsets, open skies, moonlit nights, meditate on the grass, and walk the trails. Tune out the world and tune in.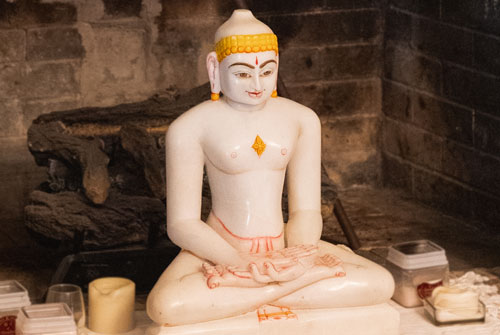 Be surrounded by monks, nuns, and ascetics in training in a peaceful, quiet, and positively energized atmosphere. Learn ancient and universal spiritual teachings and techniques and how to apply them to modern-day living.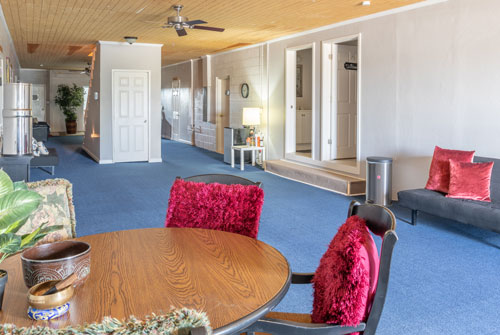 Enjoy the relaxing environment of warmth and coziness through simple, clean, and comfortable rooms and facilities. An ashram is a place of spiritual learning and higher thinking — not a resort, hotel, or spa.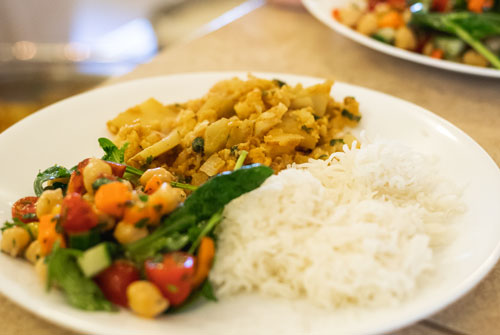 Dive into delicious, simple, healthy vegetarian meals from a multitude of cultures. We often serve Indian, Asian, Italian, Mexican and other tasty dishes.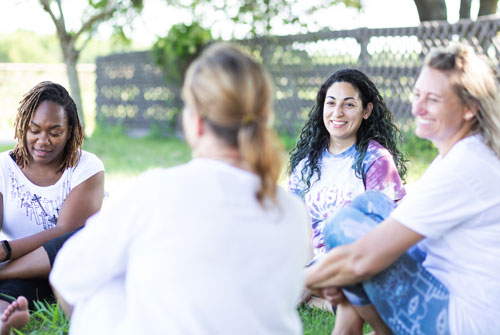 Feel free to be and express your true self in a safe, non-judgmental, respectful, and welcoming place. Meet others who are also on their spiritual journey of transformation and self-discovery. New soul friends await.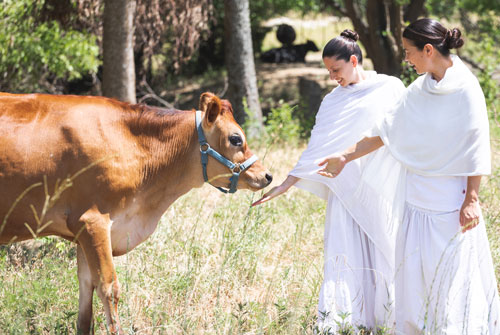 Attending our courses and retreats automatically supports our efforts to provide education at our children's school in India, support survivors of human trafficking, and provide a sanctuary for our cows among other causes.