your soul holds infinite potential and power, it just needs to be awakened.
Imagine that your soul is your guiding force in life with a balanced and peaceful mind.
Imagine that your thoughts are pure and that wisdom easily comes to you. Wouldn't it be great to really understand the power of your soul and how to transform your mind and thoughts so that it works for you and not against you? Dive in deep to understand the Power of Intention.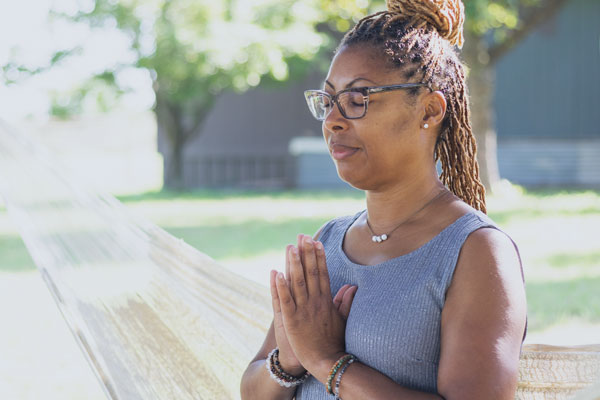 WHAT IS THE POWER OF INTENTION?
Power of intention is a transforming path that shifts your thinking into high spiritual and pure thoughts through 16 intentions. When you change your thoughts to higher and purer thoughts your transform your life, relationships, behavior, speech, and actions. Changing your thoughts and understanding the levels of intention behind them will automatically make you aware of where you stand spiritually. It's not enough to do yoga, be vegetarian, or practice meditation, you also need to work on improving your mind patterns and transforming your lower thoughts into higher quality thoughts. If you have no thoughts affecting you, wouldn't you be in total peace? If your thoughts can be used as a positive instrument versus feeling like you're constantly battling yourself and life, wouldn't life for you have more meaning and purpose?
About the Power of Intention Course
An effective way to shift your intention & mindset.
Shift your thinking into purer and higher thoughts that improve your life, relationships, energy, focus, and karmas. The Power of Intention workshop dives deep into exploring the 16 intentions that improve your mental states and that allow you to have balanced, positive, and higher thinking. When you have higher and positive thinking automatically your life will change and you will grow spiritually at a rapid rate. Imagine living your life with pure intentions, without ego, with the strong emotions of anger and frustration, and instead, a purposeful and meaningful life with your mind working with and for you rather than against you.
By participating in this unique and special workshop, Acharya Shree Yogeesh will share with you what you exactly need to do in order to be free of your mind. When you are free of your mind, which is the central karma collector, your soul becomes freer. When you dissolve the mind, you welcome and embrace the soul. Learning the power of intention, how to analyze yourself, and properly reflect on your soul this way you grow and expand more and more.
Course includes:
3 classes for the Power of Intention course
2 hatha yoga classes
2 mantra & meditation sessions
A spiritual retreat experience
General Retreat Schedule:
Day 1
3:00 pm - 6:00 pm: Check-in
6:30 pm: Mantra & Meditation, session 1
7:00 pm: Dinner
10:00 pm: Lights off
Day 2
7:00 am: Hatha Yoga, session 1
8:00 am: Breakfast
9:00 am: Power of Intention, class 1
12:30 pm Lunch
2:00 pm: Power of Intention, class 2
3:30 pm: Chai Tea break
6:30 pm: Mantras & Meditation, session 2
7:00 pm: Dinner
10:00 pm: Lights off
Day 3
7:00 am: Hatha Yoga, session 2
8:00 am: Breakfast
9:00 am: Power of Intention, class 3
12:00 pm: Check-out
12:30 pm: Lunch (Not included. Can be added for $10)
Course FAQ:
Is this course for beginners?
Yes, this course can benefit everyone regardless of any level of experience.
Who is this course for?
Anyone seeking to learn how to purify their thoughts, increase their concentration, live with and practice higher thinking.
What do I need to bring for the course?
Bring a notebook and a couple of pens to take notes for class and to reflect.
When is this course offered? Can I attend the course if it's not available on the dates I need?
Check the schedule. You can opt to do an exclusive experience and can come any time for a one-on-one experience so as long as the teacher is available.
$395 Tuition + Accommodations
Schedule and book your Power of Intention Retreat today.
Give yourself the time, space and perfect place to get away and reconnect with yourself.
Three wisdom-intensive classes focusing on deepening your understanding of the mind, thoughts, and intention and how they affect you.
Discover the 16 levels of intention so you know how you can purify your mind so that your thoughts, actions and speech improve.
Ancient breathing techniques to help you expel built up toxins and negativity to help your overall mental and physical health.
Learn the spiritual practice that helps you critically analyze your thoughts so that you transform your lower thinking to higher thinking.
Guidance from an enlightened spiritual teacher to help you live with purpose, transform your thinking, and lift your consciousness.
PRESENT MOMENT TECHNIQUES
The mind lives in the past and future. Only soul exists in the present. Learn techniques to keep you more in-tune with soul.
After Self-Analysis, learn how to properly contemplate and reflect on your qualities so that you can take action to improve these areas of your life.
Learn techniques that will bring you mental clarity and help you to concentrate to help you bypass your mind and connect more to soul.
Use the arrows to find availability for your program(s). If the course is not offered on your preferred dates, consider signing up for the Exclusive One-on-One upgrade.
Wake up to a fresh start with traditional hatha yoga. The yoga class will help you improve your strength, flexibility, and balance. Begin your day grounded and in harmony giving your body, mind, and soul some love.
Bring your day to a close by chanting ancient mantras. Mantras are divine sounds that help you create positive and healing energy for yourself and others. This energy helps to calm your body and mind, and it can help you connect with your soul.
After mantra chanting, enjoy a guided meditation and silence to merge with yourself at the deepest level. A few minutes of meditation can bring stillness, joy, and peace to your soul benefitting your wellbeing, health, and spiritual growth.
Your choice of accommodations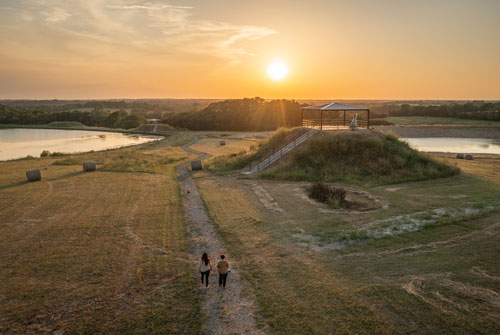 Connect to yourself through nature's beauty and energy. Enjoy the peace and quiet, rolling hills, sunsets, open skies, moonlit nights, meditate on the grass, and walk the trails. Tune out the world and tune in.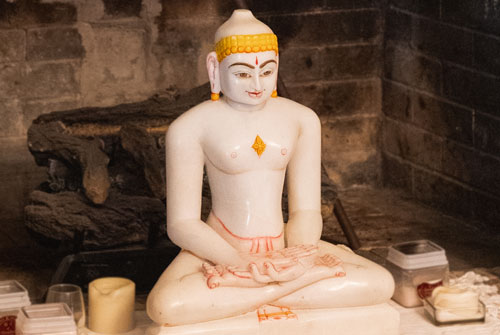 Be surrounded by monks, nuns, and ascetics in training in a peaceful, quiet, and positively energized atmosphere. Learn ancient and universal spiritual teachings and techniques and how to apply them to modern-day living.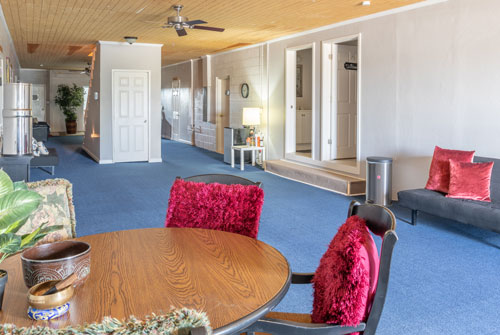 Enjoy the relaxing environment of warmth and coziness through simple, clean, and comfortable rooms and facilities. An ashram is a place of spiritual learning and higher thinking — not a resort, hotel, or spa.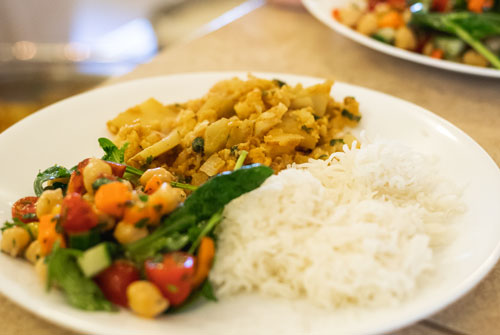 Dive into delicious, simple, healthy vegetarian meals from a multitude of cultures. We often serve Indian, Asian, Italian, Mexican and other tasty dishes.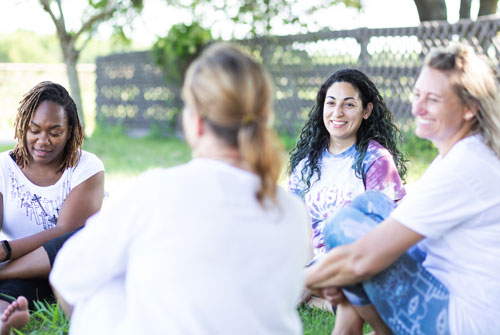 Feel free to be and express your true self in a safe, non-judgmental, respectful, and welcoming place. Meet others who are also on their spiritual journey of transformation and self-discovery. New soul friends await.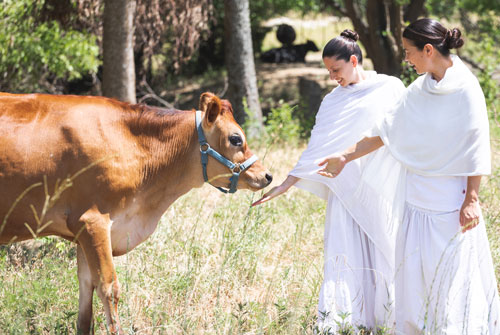 Attending our courses and retreats automatically supports our efforts to provide education at our children's school in India, support survivors of human trafficking, and provide a sanctuary for our cows among other causes.