balance, strength, flexibility, and purification are only one step away.
Imagine having an effective home yoga practice that can help you not only cleanse your body but also cleanse your thoughts and the impurities covering your soul. Purnam Yoga gives you the intensity needed to detox your body and helps you connect with your highest self.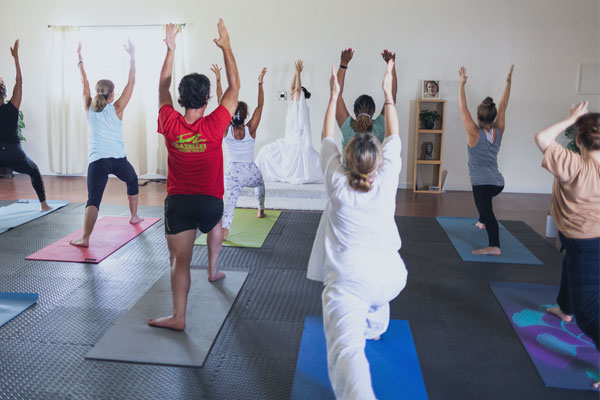 "Purnam" in Sanskrit means perfection. With a blend of intensive breathing techniques and yoga postures, Acharya Shree Yogeesh developed the Purnam System®, which helps cleanse the body of toxins and negativities and immediately brings clarity, a sense of lightness, reduced tension, and the ability to meditate deeply. This is a new and unique system not taught elsewhere. The techniques help detoxify the lungs, purify the blood, and pump oxygen to the nerves and brain, while the postures help to tone and cleanse the muscles. The Purnam System® is deeply connected to the spiritual ancient teachings of the Yoga system of nonviolence, self-improvement, meditation, and connecting to one's highest self (soul). This system includes breathing techniques, concentration, meditation, practicing nonviolence, the discipline of mind and body, fasting, truthfulness, and non-attachment among others.
About the Purnam Yoga® course
Finally, an effective way to purge toxins.
Our Purnam Yoga® retreat is a health, body, and mind-changing course developed by Acharya Shree Yogeesh to help you purify your body and mind through intensive breathing combinations. It incorporates yoga postures, breathing, and deep relaxation in a spiritual environment.
This course will help you deepen your understanding of yoga and how it can help you grow spiritually. This program is customized for beginners or advanced practitioners of yoga. If you are turning to yoga to help you improve your life, to relax, to be more flexible, stronger, and more centered, or to just live a healthier, more connected lifestyle, our retreat is an all-in-one program that you're just going to love. If you are a beginner or you have been doing yoga for years, this retreat will help you grow no matter what stage of your yoga practice you are in now. Build a strong foundation through the right teachings, techniques, guidance, and tools so that you can activate, balance, and unblock yourself with success.
Course includes:
3 classes for the Purnam Yoga® course
2 morning hatha yoga sessions
2 evening mantra & meditation evening sessions
A spiritual retreat experience
Retreat Schedule:
WINTER (NOVEMBER 1 - MARCH 15)
Day 1
3:00 pm - 6:00 pm: Check-in
4:30 pm - 5:30 pm: Dinner
6:30 pm: Mantra & Meditation, session 1
10:00 pm: Lights off
Day 2
7:00 am: Hatha Yoga, session 1
8:30 am: Purnam Yoga Retreat, class 1
10:00 am: Brunch with Chai Tea
2:00 pm: Purnam Yoga Retreat, class 2
4:30 pm - 5:30 pm: Dinner
6:30 pm: Mantras & Meditation, session 2
10:00 pm: Lights off
Day 3
7:00 am: Hatha Yoga, session 2
8:30 am: Purnam Yoga Retreat, class 3
10:30 am: Brunch with Chai Tea
12:00 pm: Check-out
GENERAL (MARCH 16 - OCTOBER 31)
Day 1
3:00 pm - 6:00 pm: Check-in
6:30 pm: Mantra & Meditation, session 1
7:00 pm: Dinner
10:00 pm: Lights off
Day 2
7:00 am: Hatha Yoga, session 1
8:00 am: Silent Breakfast (an awareness practice)
9:00 am: Purnam Yoga, class 1
12:30 pm Lunch
2:00 pm: Purnam Yoga, class 2
3:30 pm: Chai Tea break
6:30 pm: Mantras & Meditation, session 2
7:00 pm: Dinner
10:00 pm: Lights off
Day 3
7:00 am: Hatha Yoga, session 2
8:00 am: Silent Breakfast (an awareness practice)
9:00 am: Purnam Yoga, class 3
12:00 pm: Check-out
12:30 pm: Lunch (Not included. Can be added for $10)
Course FAQ:
Is this course for beginners?
Yes, this course can benefit everyone regardless of any level of experience.
Who is this course for?
Anyone seeking to learn a new breathing-style intensive yoga to purify the body and mind. Beginner practitioners and advanced yoga practitioners are welcome.
What do I need to bring for the course?
Bring a notebook and a couple of pens to take notes for class and to reflect.
When is this course offered? Can I attend the course if it's not available on the dates I need?
Check the schedule. You can opt to do an exclusive experience and can come any time for a one-on-one experience so as long as the teacher is available.
$295 Tuition + Accommodations
Schedule and book your Purnam Yoga® Retreat today.
Give yourself the time, space and perfect place to get away and reconnect with yourself.
Each class is broken into three sections: Purnam Yoga with spiritual teachings, intensive breathing combinations, traditional hatha yoga, and relaxation.
The Purnam System® is not taught elsewhere and was created by a real yogi, Master Acharya Shree Yogeesh, who exemplifies the true yogic path.
Classes are easily adaptable for all levels of experience. From beginning to advanced, all participants will benefit incredibly from each class.
Our style is connected to the spiritual teachings of yoga about nonviolence, self-improvement, meditation, and connecting to your highest self.
Safe posture guidance for injury prevention and time to ask questions and review postures with the instructor.
Enjoy a guided meditation after a full practice of Purnam Yoga allowing you to fully relax and merge with your higher self.
Between 75 – 90 minutes, each class allows you to learn a wide range of breathing combinations, traditional poses, and full relaxation.
Leave with an understanding of the postures and breathing exercises and gain confidence to take your practice anywhere you go.
Use the arrows to find availability for your program(s). If the course is not offered on your preferred dates, consider signing up for the Exclusive One-on-One upgrade.
Wake up to a fresh start with traditional hatha yoga. The yoga class will help you improve your strength, flexibility, and balance. Begin your day grounded and in harmony giving your body, mind, and soul some love.
Bring your day to a close by chanting ancient mantras. Mantras are divine sounds that help you create positive and healing energy for yourself and others. This energy helps to calm your body and mind, and it can help you connect with your soul.
After mantra chanting, enjoy a guided meditation and silence to merge with yourself at the deepest level. A few minutes of meditation can bring stillness, joy, and peace to your soul benefitting your wellbeing, health, and spiritual growth.
Your choice of accommodations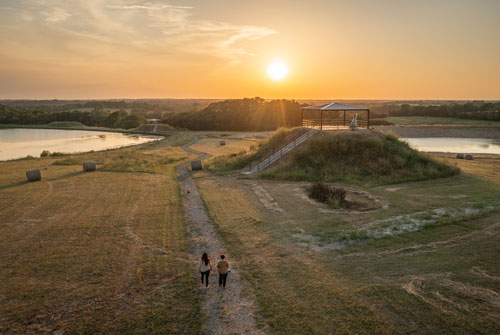 Connect to yourself through nature's beauty and energy. Enjoy the peace and quiet, rolling hills, sunsets, open skies, moonlit nights, meditate on the grass, and walk the trails. Tune out the world and tune in.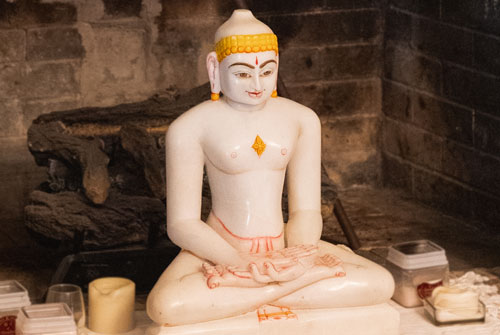 Be surrounded by monks, nuns, and ascetics in training in a peaceful, quiet, and positively energized atmosphere. Learn ancient and universal spiritual teachings and techniques and how to apply them to modern-day living.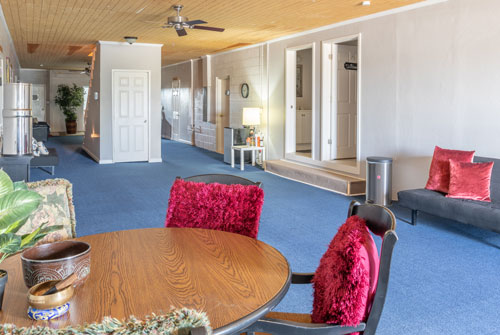 Enjoy the relaxing environment of warmth and coziness through simple, clean, and comfortable rooms and facilities. An ashram is a place of spiritual learning and higher thinking — not a resort, hotel, or spa.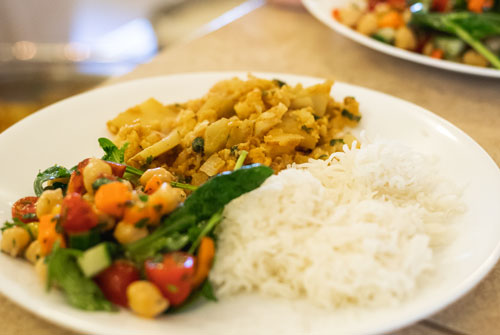 Dive into delicious, simple, healthy vegetarian meals from a multitude of cultures. We often serve Indian, Asian, Italian, Mexican and other tasty dishes.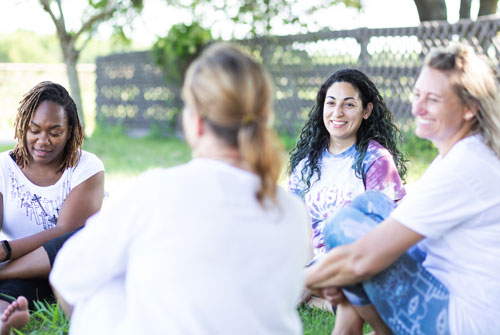 Feel free to be and express your true self in a safe, non-judgmental, respectful, and welcoming place. Meet others who are also on their spiritual journey of transformation and self-discovery. New soul friends await.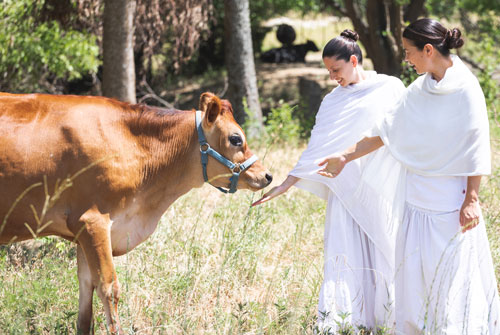 Attending our courses and retreats automatically supports our efforts to provide education at our children's school in India, support survivors of human trafficking, and provide a sanctuary for our cows among other causes.