live optimally and reach your full potential.
Imagine not feeling overwhelmed and having more balance in your life. Reclaim your life and liberate yourself from dependencies. Reach a point where you heal from pain, stress, and anxiety. This is not a dream. This can become a reality.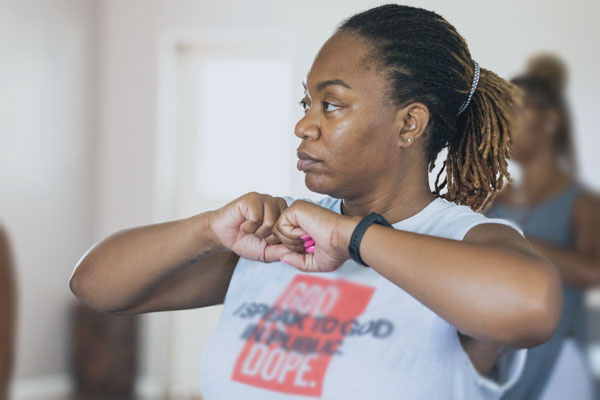 WHAT IS HEALTH & WELLNESS?
Health refers to a state where the physical body is free from disease, while wellness refers to an overall balance of a person's physical, social, spiritual, emotional, intellectual, environmental, and occupational well-being. Balance is key to living a spiritual life. If your body which is your instrument, is damaged, hurt, tensed, stressed, sick, or feeling in constant pain, how can you be happy and balanced? When the body is out of balance and not working properly, it's very difficult to follow the spiritual path. In order to grow spiritually, your body plays a major role as the spiritual path requires many body disciplines and activities. If your mind is stressed, has symptoms of PTSD or if there is an addiction, it's even more difficult for the soul to be free. Purifying your instrument, making it healthy, eating light and well, and learning how to not be affected by negativities is critical to living a happy, healthy, and spiritual life.
About the Health & Wellness Course
Finally, an effective way to live a healthy,
balanced, and spiritual lifestyle.
If you are seeking a course to help you improve your overall physical health and mental health through intensive breathing techniques, yoga postures, guidance, and deep relaxation in a spiritual environment, then you've found it.
Our Health & Wellness course developed by Acharya Shree Yogeesh aims to help you purify your body and mind through intensive breathing combinations. A strong and healthy body is necessary to grow consistently on the spiritual path. By overcoming negativities and pain and clearing your body, your soul will be able to shine. You will get rid of stress-causing toxins, release tension from your muscles, empty your mind so you have space to think, help you focus and practice awareness, learn how to not get easily overwhelmed, balance your personal and work life, stop holding and suppressing your emotions, and no longer react negatively with anger. Because this system is practical and not merely knowledge or theory, you will immediately feel the difference in your body and mind when you start practicing during the course. With a practical system, you can continue at home to reduce even more stress, reduce addictive behaviors, be affected less by your PTSD, and live a balanced, peaceful life, and healthy life.
Course includes:
3 classes for the Health & Wellness course
2 hatha yoga classes
2 mantra & meditation sessions
A spiritual retreat experience
General Retreat Schedule:
Day 1
3:00 pm - 6:00 pm: Check-in
6:30 pm: Mantra & Meditation, session 1
7:00 pm: Dinner
10:00 pm: Lights off
Day 2
7:00 am: Hatha Yoga, session 1
8:00 am: Breakfast
9:00 am: Health & Wellness, class 1
12:30 pm Lunch
2:00 pm: Health & Wellness, class 2
3:30 pm: Chai Tea break
6:30 pm: Mantras & Meditation, session 2
7:00 pm: Dinner
10:00 pm: Lights off
Day 3
7:00 am: Hatha Yoga, session 2
8:00 am: Breakfast
9:00 am: Health & Wellness, class 3
12:00 pm: Check-out
12:30 pm: Lunch (Not included. Can be added for $10)
Course FAQ:
Is this course for beginners?
Yes, this course can benefit everyone regardless of any level of experience.
Who is this course for?
Anyone seeking to be healthier, stress-free, heal from trauma and addiction and strengthen their body for the spiritual path.
What do I need to bring for the course?
Bring a notebook and a couple of pens to take notes for class and to reflect.
When is this course offered? Can I attend the course if it's not available on the dates I need?
Check the schedule. You can opt to do an exclusive experience and can come any time for a one-on-one experience so as long as the teacher is available.
$395 Tuition + Accommodations
Schedule and book your Health & Wellness Retreat today.
Give yourself the time, space and perfect place to get away and reconnect with yourself.
In three classes you will learn the importance of a strong and healthy body for the spiritual path, how to keep your body pure with a healthy diet, and learn techniques to remove negativities.
Only taught at Siddhayatan to help you eliminate accumulated toxins and negativities through various combinations of intensive breathing and exercises to help bring your body back to a balanced state.
Learn special teachings focused on improving your overall health and well-being with a special emphasis on stress relief, overcoming addiction, and PTSD healing.
Intensive breathing techniques to clear the head and mind, reduce pain-inducing toxins in the body, and improve digestion.
Special divine sounds, mantras, designed to free up toxic and anxious energy and center you in peace.
Leave with a set of practical tools that will help you to rid yourself of toxins, negativity, anxiety and stress and live with more peace, stillness, and vision.
Use the arrows to find availability for your program(s). If the course is not offered on your preferred dates, consider signing up for the Exclusive One-on-One upgrade.
Wake up to a fresh start with traditional hatha yoga. The yoga class will help you improve your strength, flexibility, and balance. Begin your day grounded and in harmony giving your body, mind, and soul some love.
Bring your day to a close by chanting ancient mantras. Mantras are divine sounds that help you create positive and healing energy for yourself and others. This energy helps to calm your body and mind, and it can help you connect with your soul.
After mantra chanting, enjoy a guided meditation and silence to merge with yourself at the deepest level. A few minutes of meditation can bring stillness, joy, and peace to your soul benefitting your wellbeing, health, and spiritual growth.
Your choice of accommodations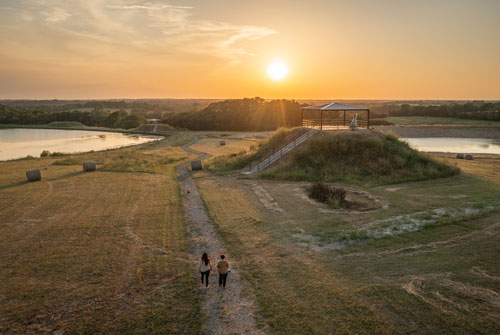 Connect to yourself through nature's beauty and energy. Enjoy the peace and quiet, rolling hills, sunsets, open skies, moonlit nights, meditate on the grass, and walk the trails. Tune out the world and tune in.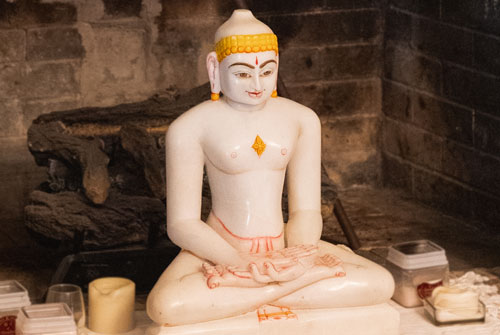 Be surrounded by monks, nuns, and ascetics in training in a peaceful, quiet, and positively energized atmosphere. Learn ancient and universal spiritual teachings and techniques and how to apply them to modern-day living.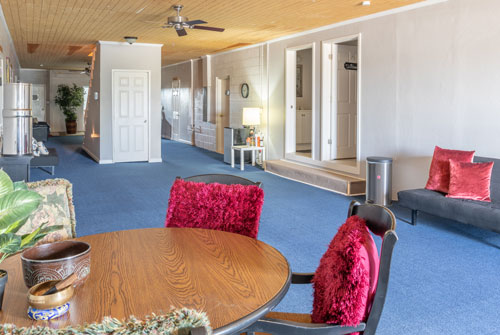 Enjoy the relaxing environment of warmth and coziness through simple, clean, and comfortable rooms and facilities. An ashram is a place of spiritual learning and higher thinking — not a resort, hotel, or spa.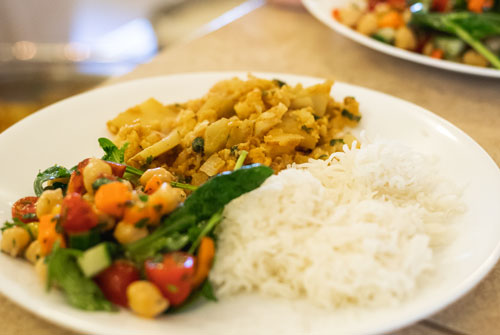 Dive into delicious, simple, healthy vegetarian meals from a multitude of cultures. We often serve Indian, Asian, Italian, Mexican and other tasty dishes.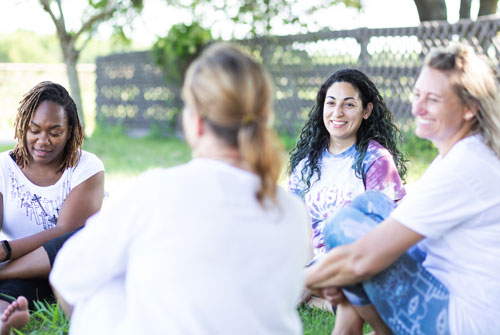 Feel free to be and express your true self in a safe, non-judgmental, respectful, and welcoming place. Meet others who are also on their spiritual journey of transformation and self-discovery. New soul friends await.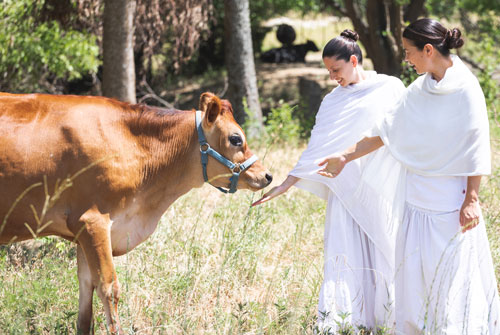 Attending our courses and retreats automatically supports our efforts to provide education at our children's school in India, support survivors of human trafficking, and provide a sanctuary for our cows among other causes.